We use Firestone EPDM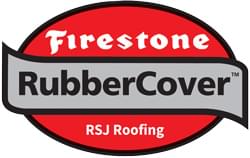 Since its introduction in 1980, Firestone RubberGard EPDM has dominated the single-ply roofing market through its proven performance, durability and flexibility over a wide range of building types. RubberGard EPDM has delivered more than two decades of commercial roofing success by building upon a heritage of innovation in rubber polymer technology.
The versatile membrane offers a variety of installation options including fully adhered, ballasted or mechanically attached that deliver superior long-term weatherability and exhibit exceptional wind uplift resistance.
Totally Maintenance free
Proven lifespan of 50 years+
Fitted by authorised installers only.
Can overlay old roofs- unless the decking has failed.
UV & Ozone stable - totally resistant to all weathers: Sunlight, Rain, Snow, Saltwater, Oxygen.
Ususally fitted within one day on most residential Extensions, Garages, Porches and Dormers.
All guarantees are transferable to future property owners -The perfect document to present to prospective new home buyers.
Fully adhered system – No flames.